Empower Your Child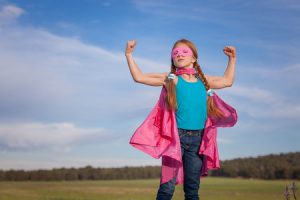 This month at Prestige Martial Arts we are working on having a "YES, I Can" attitude and our life skill is Belief.  Believing in ourselves is one of the key life skills that are going to be required in order to have a happy and successful life. What I wanted to work on today is helping you to empower your child instead of handcuffing them. What I mean by that is, parents spend an awful lot of time saying no and don't, and telling their kids what not to do, or what they shouldn't do, or what they can't do. Then they are surprised when their child turns around and starts to give that back to them.
"Hey, I want you to go do this."
"Oh, I can't."
or
"Well, I want you to try this."
"Oh, no, that's new. I can't."
So what we want to work on is having a yes I can attitude.
A good example would be a young toddler. Young toddlers like to pick their nose, and so what parents do (I was watching this the other day at a grocery store) a toddler wanted to pick his nose or he had something there. He just wanted to stick his finger up his nose. So the parent kept saying "Don't" and would hit their hand. Well, that doesn't solve the issue. There is either something in his nose or it itches and he wants to scratch so the toddler just kept putting his finger back up his nose. All the parent kept saying was, "That's gross, don't" and smacking their hand, stop it, smacking their hand, don't do that and smacking their hand. They weren't helping the child solve the problem. They were not empowering their child.
A simple solution that gets overlooked is this: if you catch your toddler with their finger up their nose, you say, "Hey, that's not how you do that. Here. Let me show you. Let's go get a tissue. Now. Take the tissue and blow your nose. Does that feel better? Do that fix the problem?"
If they say no, then you can continue to investigate and give them solutions.
By giving kids solutions. You are now empowering them to do better in their everyday life. They are going to be able to solve problems, instead of always bringing you problems. Whenever you tell your child don't do that. You are handcuffing them. They think, okay, well, I'm not supposed to do that. Now what? And a lot of times, it's going to leave that big elephant in the room,  You want to understand that it is their curiosity that is getting them in trouble. They are experimenting, they are trying something, and so by telling them not to do it, you not only haven't solved the problem, but you have now added to this curiosity. I really want to know how to do this, or I really want to know what happens if I do this, or what's going to happen or why shouldn't I do this? You've actually created a bigger monster, instead of addressing it directly and saying,
"Here are some solutions, what do you want to do?"
For example: Why is it important to go to bed on time?
When you go to bed on time, you are going to get good sleep, you are going to be able to wake up on time, you are going to be able to wake up refreshed so that you are ready to start your day. So I realize you might want to stay up late, but it's not the best choice for you to make.
Now you are empowering your child at that point to understand the process.
Find different ways or get ideas of how you are going to be able to help your child and empower them so that they can start to develop that yes, I can't attitude.
People with a belief in themselves, tackle those problems!
You will hear me say here in the karate school all the time, a student will come in and they will say,  "I can't."
My immediate answer to them is, "I don't want to hear what you can't do. Tell me what you are going to do or tell me what you can do."
That gets the brain thinking on a solution. By thinking about solutions, the kids are going to constantly be moving forwards. They are going to be learning and they will start to better believe in themselves.
If you have any questions or if you get stuck on exactly how to present something, feel free, drop it down in the comments or message me, I'm happy to help you any way I can have a super day and we'll talk to you guys soon.